Always Out and About
Located in the heart of our city, many local opportunities for Education Outside the Classroom are but a short walk away. St Michael's classes are often to be found in the Botanic Gardens, Hagley Park, Central Library, Town Hall, Art Gallery, Museum or riverside.
Within an hour, our coastline, the Port Hills and peninsula offer a wealth of Outdoor Education resources. A slightly longer drive away, the South Island's riches beckon.
Our rich and extensive range of opportunities beyond the classroom allows our pupils to grow in confidence and self-esteem, and to learn tolerance, teamwork and respect in environments which take them out of their comfort zones.
Camps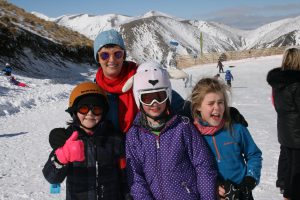 Years 7&8 head for the mountains: Year 7 to Arthur's Pass, and Year 8 to the Mackenzie Country and at Mt Cook. Activities include camping, walking, river crossing, outdoor cooking, search & rescue and cycling. The fabulous backdrop of the South Alps provides the glorious 3D textbook for our Geography and Science units on plate tectonics and the rock cycle in Year 7, and mountains and glaciation in Year 8.
When not roughing it, Year 8 heads for Wellington for three days of Civics & Citizenship, visiting Government House, Parliament, Te Papa, the Treaty of Waitangi exhibition at the National Library, St Paul's Cathedral and Weta Workshop.
 Years 5 & 6 venture a little closer to home, with programmes on the ground, off the ground and in the water. Camp venues vary each year, including Wainui, Living Springs and Halkett.
Outdoor Ed Days
Outdoor Ed Days happen each term, often complimenting a class unit study in Science, Geography or History. The choices are endless…Beach Ed, Surf Safe, Amazing Race, First Aid, Search & Rescue, orienteering, sail training,  Tough Kids' Challenge, climbing, high and low ropes, mountain biking, trail cycling, the Big Day Out…
Cycle Safe
Each year, our Year 6 pupils participate in the City Council's Cycle Safe education programme, learning the road rules and gaining confidence on-site, before setting out for Hagley Park, and neighbouring cycle ways and roads.
Independent Schools' Ski Racing
Each year, St Michael's teams enter the Independent Schools' Ski Racing, a slalom event at Porter Heights. A good time always seems to be had, no matter the weather!