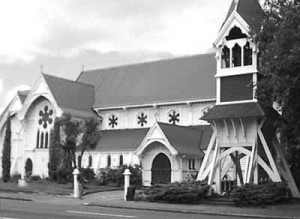 Saint Michael and All Angels was the first church in Christchurch. The original building was a V Hut, replaced by a makeshift schoolroom-cum-church in 1851, so small that people were likely to hit their heads on the beams. Its early history, closely connected with that of a young settlement, vividly illustrates the problems of colonial life. Yet, by the late nineteenth century, St Michael's with a fine new church in the heart of a growing town, was the leading Anglican parish in the Diocese of Christchurch, perhaps in New Zealand. Its worship and life were typical of those aspired to by many Anglican churches in New Zealand for the next fifty years. From 1910 however St Michael's diverged somewhat from this model and embraced Anglo-Catholicism.
The present St Michael's church building was opened on May 2nd, 1872. It is a Late Victorian Gothic building combining elements of the French fourteenth century gothic, and English Medieval styles. It was designed by William Fitzjohn Crisp and is one of the few buildings known to be designed solely by Crisp. The church is constructed entirely of Matai timber (native black pine) on rubble stone foundations. It has been earthquake strengthened to a high level and this, together with it's timber construction, has enabled the building to survive the recent earthquakes with very little damage. St Michael's is one of the largest timber churches of its style in the world and possesses a warmer atmosphere than one you would find in a stone building. Such a massive timber building requires an intricate framework, with pillars carved from single trees supporting nave arches and huge tie-beams in the roof structure. Structurally the church has changed little since completion in 1872, the only alteration being the 1896 removal of a tie-beam and secondary arch to give a better view of the east window.
The parish hall, which is used by School, was built in 1877. Originally located next to the church, the hall has been repositioned twice, most recently in 2002 to allow for the rebuilding of the school.
Each year the whole school enjoy the beautiful spring weather and walk through to city to celebrate mass at the Transitional Cathedral.  It is always a lovely service, and exciting to watch the city change and grow as the rebuild continues.  Photos of our 2015 visit can be viewed on our facebook page: