St Michael's Principal, Penny Tattershaw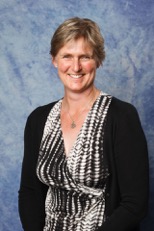 Miss Penny Tattershaw joined St Michael's Church School as principal in December 2017, bringing a varied background to the position.
Having studied law at Oxford University, she trained at the Exeter University School of Education, before beginning a teaching career which has spanned the independent schools' sectors in England, Scotland and New Zealand. Prior to joining St Michael's, Penny was a long-standing Deputy Head at The Cathedral Grammar School.
'It's a privilege to be entrusted by parents with the task of providing their child with the essential foundation for their education, their foundation for life,' Penny believes. 'Our young pupils have limitless potential to lead exciting and generous lives. We have a responsibility to educate and inspire, and to encourage every pupil to flourish, in mind, body, and spirit.
'As we prepare our pupils for an increasingly hectic world, we have a duty to equip them with values, knowledge and skills for their personal wellbeing. As a church school, we're fortunate – we have a head start!'
Penny is a keen sportswoman, having played hockey and water polo to an international level in her youth, and she remains a keen coach. And when time allows, she heads for the mountains, the ocean or overseas to visit family and friends.