St Michael's Church School is a co-educational Independent primary school, with an excellent reputation as an academic institution. We are the oldest established primary school in Christchurch having been founded in 1851 in a small wooden cottage on the banks of the Avon River and have ever since been in operation on the Durham Street corner site in the inner city.   Our community – Church and School – celebrated its Sequin-centenary in 2001, over 300 past parents, pupils and staff registered for these significant celebrations. We opened three of our four staged rebuilding programme on 6 June 2003 and the fourth stage, the renovated stone building, was formally rededicated on 27th October 2006.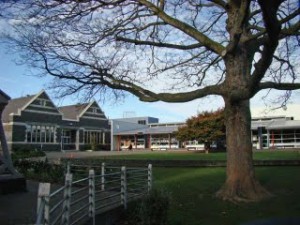 St Michael's, as an Anglican Church School, is under the auspices of the Diocese of Christchurch. We are pleased to enrol and educate pupils irrespective of their religious affiliation. Our pupils make up a full representation of suburbs both inside and outside the city boundaries. In addition, our After School Homework Centre provides our parents with a centrally sited educational institution, with an accompanying programme beyond the 3pm closure to the school day. Our moderate School fees are a further attraction to our prospective parents, who bring to our school a richness in background and culture.
Our current decile rating is 'nine'.
Class levels go from Year 1-8, with an average  teacher – pupil ratio 1:15.
Houses
There are four School Houses: Averill, Harper, Mathias and Perry.
The school pursues its daily organisation, closely aligned to the four dimensional development of the pupils in its care: academic, cultural, sport and spiritual.